FAIRIES OF NISHIJIN TEXTILES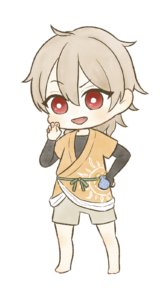 RAN is the fairy of Kinran which is Nishijin textiles. (金襴=KINRAN=Brocade)
Brocade is a luxury item, and he is often approached by people who want to take advantage of his status.
In reality, he wants people to treat him like a normal boy, and he wants to have friends who can treat his like a normal boy.
Favorite food: Chestnut Kintoons, University Potatoes.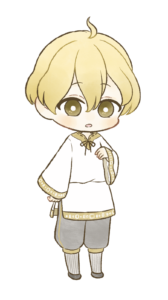 A fairy of Nishijin textiles woven with the technique called Tsuzure-ori(Tapestry).
Tsuzure weaving is done with jagged nails, so Tsuzure's nails are also jagged.
He is mischievous and not very good at using his head.
Favorite foods: pork cutlet, castella.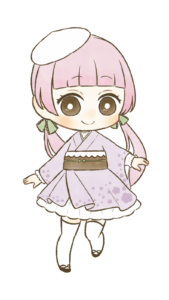 A fairy made of Nishijin textiles woven by a female craftsman.
She is a bit eccentric and modern, but is proud of her individuality. Wants to become a mature woman.
Favorite foods: strawberry daifuku, fried horse mackerel